East Beach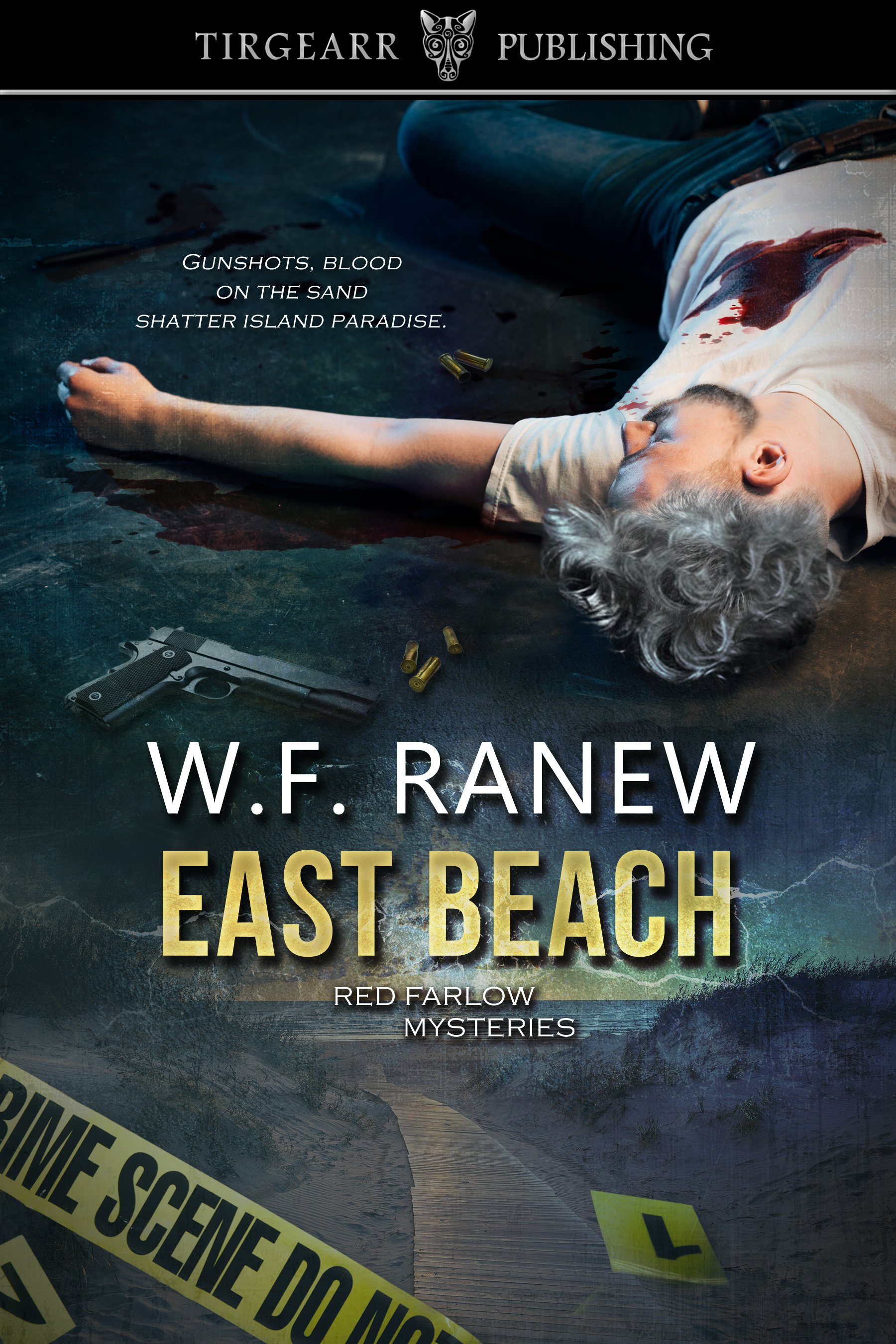 Red Farlow Mysteries, Book 3
Mystery/Thriller
Date Published: September 30, 2020
Publisher: Tirgearr Publishing
FBI Agent Joseph Trammell retires to a beachfront home on a Georgia island.
Six months later, PI Red Farlow finds him dying in a pool of blood. Someone shot him four times. Five shell casings litter the floor. Drops of blood lead out of the house and onto East Beach on St. Simons Island. Red sets out to find out who killed Joe Trammell and why.
Did the local drug and arms smuggler hire a hit? And who caught the fifth bullet?
Farlow wades into the murky water of intrigue, conflicting love affairs, and danger as he tracks down the killer. It's not exactly a relaxing day at the beach.
Read an Excerpt
The August day dawned sunny, hot, and humid on the morning Rehna Wilkerson met the man from East Beach.
A vacation rental sign at the East Beach cottage had fallen overnight in a late summer rainstorm. As she drove by, Rehna saw the sign flat on the ground and pulled over to the grassy curb. She let her late-model luxury car idle while she got out, leaving the door open, and walked over the wet grass in her heels to re-stake the metal frame. She took care to place it at the proper angle for maximum visibility from the street.
Rehna Wilkerson prided herself on the details. The small things. The things that didn't matter to anyone else. Satisfied the sign stood just right, she took a moment to admire the words. Rehna's Cottage Rentals, My Island is Your Vacation Paradise, and her phone number. She turned to go back to the car.
At that moment, she heard tires squeal and looked up. A man in an old Army vehicle barreled around the corner and sped up the residential street toward her. She saw him looking at something, perhaps his cell phone. He was driving too fast and not paying attention.
Rehna thought of her open door. Too late.
Bam!
She raised her hands over her face.
The man's vehicle struck and smashed the driver side door into the car's newly
washed, shiny English Forest Green body.
Rehna removed her hands and saw the damage. She screamed.
The driver brought his vehicle to a stop just shy of a royal palm tree. He sat there
and looked around for something.
The man must have realized he'd smashed the hell out of someone's high-end
car. He jumped out of the four-by-four and walked in Rehna's direction.
Rehna didn't recognize him but figured he was a tradesman or landscaper. She
knew everyone who was anyone in East Beach, but she'd never before seen this person.
She felt herself boiling up and caught her temper. Never know when you'll get a new renter or referral. She walked slowly to examine the damage to her prized car. Not good.
The man held his hands up and said how sorry he was.
"I wasn't paying attention," he said. "I'll make this right for you, ma'am, and rent you a car until the damages are fully repaired."
It was then that Rehna got a good look at the man. Tall, gray-haired, handsome as the devil himself, and contrite. Those were all things she related to about men. Males who attracted her bore those traits, appearance, and allure. She encountered few of this type in her husband's ministry.
Secretly and deep down on that hot August morning, she thought the cur had ruined her car. She prayed to God to give her peace as this thing got sorted out.
"Well, yes, it is a mess, isn't it?" she said. Remember, don't blame him. That was her first angel's logic. The devil inside her—and sweet Rehna had a devil in her— commanded her other thoughts. To hell with this bastard for ruining my car. Another
angel, the second and slightly wicked one—burst into her head—God, Rehna, entice him to disrobe you and toss you on his bed.
The first angel's retort. Careful what you wish for, dear.
Rehna heard all kinds of voices, but these three meant something to her. She listened to them. At that moment, they all came at once, and she didn't know which one to follow.
The man walked up close to her. "Again, I am sorry, ma'am," he said. "I'll call the police, and then we'll talk about getting you a loaner."
Rehna, for a long moment, just looked at him.
Finally, she walked to the car and opened the trunk. She took out a purse and a large shoulder bag. She closed the lid and looked around as the man stood there waiting for her response.
The sky had dawned a clear blue as the front the night before moved out to sea. A gentle summer breeze whipped her face. God was good. She would be OK.
She told the man everything would work out.
"Yes, I'll make certain of that," he said. "By the way, my name is Joe Trammell. Most people call me Tram. I just moved here last week."
About the Author
W.F. Ranew is a former newspaper reporter, editor, and communication executive. He started his journalism career covering sports, police, and city council meetings at his hometown newspaper, The Quitman Free Press. He also worked as a reporter and editor for several regional dailies: The Augusta (Ga.) Chronicle, The Florida Times-Union, and The Atlanta Journal-Constitution.
Ranew has written two previous novels: Schoolhouse Man and Candyman's Sorrow. He lives with his wife in Atlanta and St. Simons Island, Ga.
Contact Links
Purchase Links