Prey for Me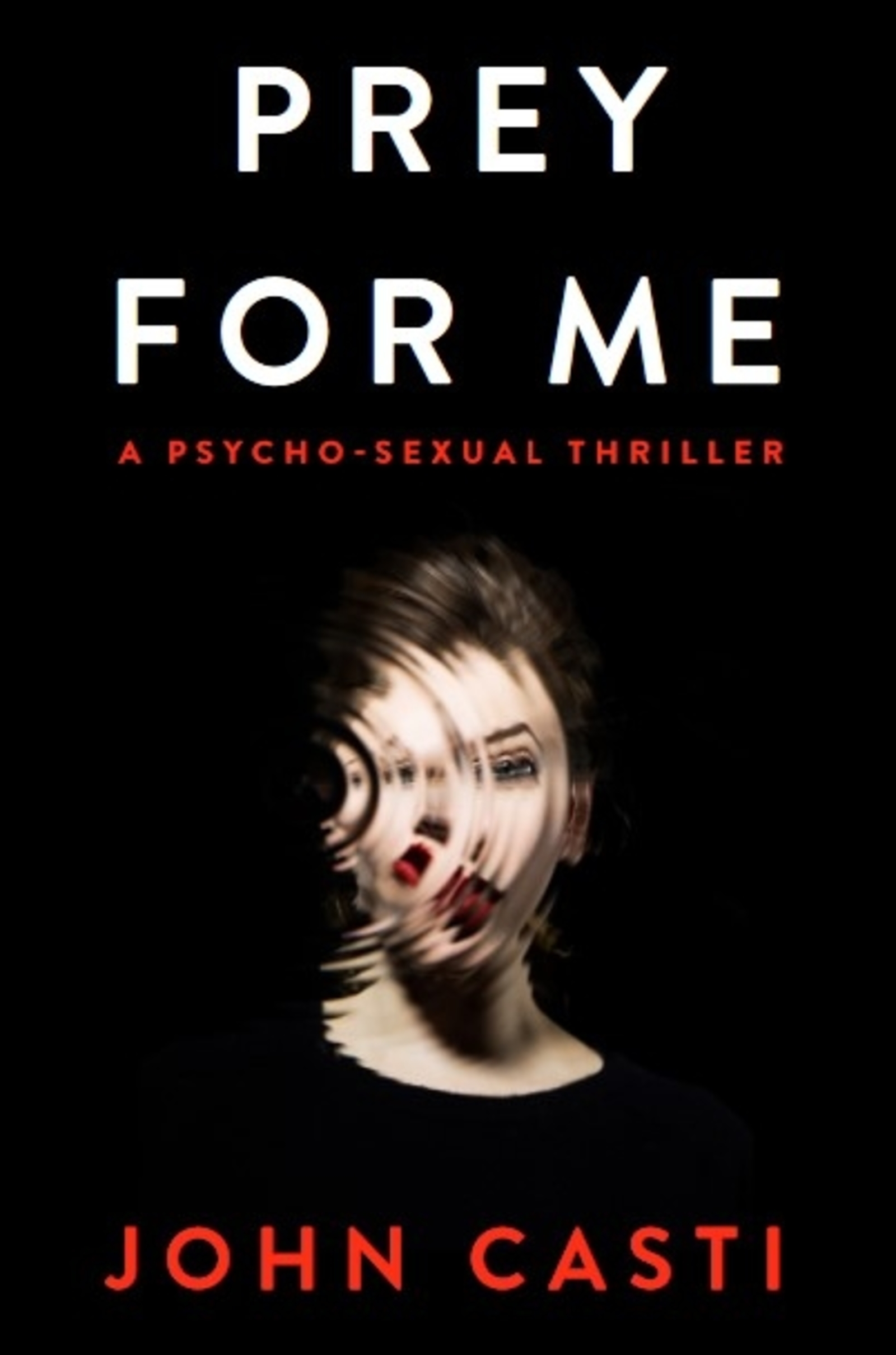 A Psychological Thriller

Date Published: September 15th, 2020

Publisher: The X-Press




Who wins and who loses when you're playing with other people's money... and their emotions?




World-renowned scientist Victor Safir can't resist his inexplicable attraction to Alex Lynne, a brilliant, beautiful financier—but his addiction to her may drive him over the edge. Thrust together as unlikely partners in the high-stakes world of London finance, their game of seduction might prove riskier than any business deal.

Victor begins to suspect that Alex is behind the sinister actions involving others in the firm, and might have an insatiable appetite for dangerous games. Is she using his desire to her advantage? Or is Victor destined to become another victim?




In a work that is equal parts thriller, intrigue, and exotic travelogue, Prey for Me weaves the power players of the financial world with the realm of top academia to craft a mystery that will keep the reader guessing.







Praise for John Casti's Paradigm Lost

"A Deep and careful pleasant consideration of what science is and how it is done. It would make anyone want to be a scientist." --Isaac Asimov

"Extraordinary...brought off with considerable erudition...absorbing reading" --Kirkus Reviews

Praise for John Casti's X-Events

"I am assiduous reader of John Casti's books. He is a real scientific intellectual." --Nassim Nicholas Taleb, author of The Black Swan

"One of America's greatest pioneers of simulation." --London Times

"Casti is at his best in presenting difficult philosophical ideas enthusiastically and lucidly, and in presenting everyday examples to illustrate them...Entertaining and absorbing." --NY Times Book Review

"Dazzling ... A delightful tour de force ... Casti [is] a good teacher." --LA Times
Read an Excerpt
Prologue

Five Years Earlier

London

The lecture hall at the London School of Economics was filling fast as she made her way to a seat in the first row. Wearing a pair of sheer black stockings with a short skirt, she wanted to attract the attention of the professor, whom she'd been seeing in a secret relationship for a few weeks now.

She thought to herself that coming from New Zealand to the LSE was the best decision she'd ever made. Her course of study was Behavioral Psychology and Finance, the two sides of which she hoped would shed light on what had happened to her in her past, as well as what could happen with her life in the future.

The professor entered the room and moved to the podium, which was directly across from where she was sitting. As he started shuffling his notes to begin the lecture, she sat up straight, crossed her legs to attract his attention and showed him a coquettish smile.

She thought he was extremely attractive: a tall, dark, Italian-appearing man in his early forties, slightly graying hair and very dark brown, sensuous eyes. She liked everything from his appearance and behavior to his slight accent that mimicked her own Kiwi twang. It was that common geographical background that had brought them together in the first place, she recalled. And for dinner tonight they would revisit the scene of their first meeting, the Radio Rooftop Bar.

∗

Radio Rooftop is one of London's most iconic venues, situated on the 10th Floor of ME London, one of the most luxurious hotels in London with striking views across the River Thames and London's impressive skyline. They took a table outside on the terrace to enjoy the changing views of the capital as the sun set, stretching from the Shard and St. Paul's downstream, to the London Eye and Big Ben.

"This place is so special," she told him. "I'm sure you remem-ber when we began our time together here, five weeks ago and counting. I'm very happy you chose it tonight."

"Yes," he replied, "it seems a fitting location for a conversation about the lovely time we've spent together and where dame fortune may be leading us."

She looked across the table with an almost predatory gaze, which then softened into a welcoming smile as she told him, "I'm enjoying you so much. I hope we can continue to develop our relationship into something very, very special. Maybe even into a permanent partnership. How would you feel about that?"

"I think I'd be very happy about such a future with you. But we're getting ahead of ourselves. First you have to finish your studies here, then turn that new-found knowledge into a good job in The City. That should all be completed by the end of the year.

Let's talk about escalating our life together then. Meanwhile, we should just enjoy what we have now and be thankful for it."

"I'm so happy since I asked you to be my mentor," she said, knowing it would please him. Then, deliberately trying to mimic his slightly formal way of speaking, she continued: "Here we are now already speaking about a lifetime partnership. I would never have believed that I'd have such amazing luck."

Lifting his glass to hers, he said, "Let's have a nice dinner and talk about that mentoring and luck just a bit more. Okay?"

"Perfect," she said, opening the menu.

In the end, they decided to share a Mediterranean Tapas Board for their main course. While going through the olives, beef meat-balls, padron peppers and guacamole, he described in a bit more detail the type of mentoring he could offer to accelerate the development of her career.

He told her he would provide consultations on various questions that came up as she made her way from the LSE lecture halls to the trading floors in The City. He would also open doors for her at various financial firms and offer letters of recommendation to influential managers at those firms. Taken together, these actions should suffice to have a good job waiting for her immediately upon graduation, he assured her, "but only if you work hard and graduate with honors."

"That's exactly what I have in mind," she told him.

"I will do all those things with pleasure," he confirmed. "Maybe we can get started on it as early as next week. What do you think?"

She agreed and they moved on to the dessert course, a bowl of coconut and vanilla rice pudding for her, a chocolate crumble for him.

He looked around and then said, "The restaurant is getting a bit crowded and is really too noisy for a serious conversation. If you're agreeable, perhaps we could talk more comfortably about the future together over a nightcap at my place. As you know, I live rather near here so we can stretch our legs a bit on the way."

"That sounds lovely."

∗

A couple of weeks later, she came to the professor's office, closed the door and said to him, "We never seem to go out any more.

Unless I'm very much mistaken, you appear to be doing all you can to distance yourself from me. What's going on?"

"Nothing is 'going on'," he replied. "I'm just overwhelmed with work now that the term is nearing an end. It's the usual stuff. Student consultations, preparation of final exams, faculty meetings, et al."

"I see," she replied, not seeing anything at all.

She paused for a moment, then jumped up from her chair,

"I have an idea. Let's go for an excursion outside London on Saturday. Just a day trip to someplace nice and interesting. What do you think?"

"That sounds very appealing," he replied. "Where do you want to go?"

"It will be a surprise. We can stay at your flat Friday evening and then get an early start on Saturday. I'll take you to one of my favorite places."

"Which would be . . . ?"

"A secret until we get there. I said it would be a surprise."

"Well, alright." he consented. "Why don't you come around five on Friday? I'll be right here working, and we'll go to dinner."

"That sounds perfect."

∗

As they left the professor's flat on Saturday morning, he couldn't hold back his curiosity any longer, and pressed her to tell him where they were going. Finally, she said, "We're going to get a train at Victoria Station that will take us to Lewes, where we'll change for a train to Seaford. From there we'll walk a bit and enjoy the day visiting the Seven Sisters."

"Oh what a wonderful idea," he said. The Seven Sisters com-prised a magnificent series of white chalk cliffs lining the coast of the Sussex South Downs, with grass as green as a golf course and magnificent sea views. "Friends have often told me how lovely they are. But I've never taken the time to go out to see them in person.

I'm looking forward to doing that today—with you as my special guide."

On the train to Lewes, they had a compartment to themselves and were able to relax, enjoy the scenery and talk about their past, present, and especially their future. At one point, the conversation waned for a few minutes. She thought this would be a good time to ask him yet once again about something that had been bothering her.

"Why have you been ignoring me?" she asked. "I've barely seen you at all recently, and even then only in your flat. Are you embarrassed by being with me or something?"

"No, I'm not at all embarrassed. Just the opposite. But I have a potential problem—and an opportunity—brewing with my colleagues that bears upon us."

"What kind of problem?" she inquired.

"A few weeks ago, one of my colleagues told me that I will be evaluated for promotion at the faculty meeting at the end of the semester. As a result, I have a huge amount of work facing me in the coming weeks, preparing the material for the committee to use in their evaluation. There will certainly be very little free time for us to meet like this again. In view of this development, I think we should not see each other personally after today, at least not until the semester has ended."

She sat back, silently digesting this development, as he wondered what was really going through her mind. Finally, she leaned toward him, took his hands in hers and said, "I understand. Such a chance doesn't come very often to get an endowed professorship at such a prestigious university as the LSE. You can't afford to bet your job that it will ever come around again."

He leaned back, looking at her lovingly, and told her, "We have a couple of months until you graduate. During that time, I will still support you as a mentor and help introduce you to people in The City. But for your sake and mine, I think the best course of action is not to see each other privately until the term is over. It's only a matter of a few weeks, and then the coast will be clear for us to move forward together. My promotion will have been settled, you will have graduated, and then we can do whatever we want.

There's just no time for us to do that in the immediate future.

That's all."

He went on to point out that this period was crucial for her life, too. "The personal and professional decisions you'll make in the coming months will impact your life for many years, perhaps longer. I feel you need as many degrees of freedom as possible to make these decisions, unencumbered by a relationship whose future is problematic, at best."

"Why do you think it's problematic?" she asked, almost too sweetly.

"Primarily because we're each making decisions in this period that will send our lives along different trajectories from where they are today. Who can really say whether those new trajectories will still be moving in parallel or will begin to diverge?"

She sat silently digesting this metaphor. Finally, she nodded her head in agreement and turned to look out the window.

I think he's trying to get rid of me, she thought quietly to herself.

∗

They exited the train at Seaford, a small town next to the ocean with a lovely esplanade. Leaving the town, they began to walk up the fairly steep footpath along the grassy mounds that led to the top of the cliffs, or 'sisters,' as they're called.

For the next several miles they had nothing but spectacular sea views over an endless ocean stretching out to their right. But they had to be careful, as most of the cliffs were not fenced off for safety, but were left bare and unprotected so their beauty could be appreciated.

He remarked, "There don't seem to be very many people out today. Maybe because it's Saturday, not Sunday, and the weather's a bit cloudy. So much the better for us. But don't get too close to the edge. It's a long way down to the water."

At one point along their walk, she asked him if they could stop for a moment and catch their breath. He agreed and they stood looking out over the sea.

"Spectacular view," he exclaimed. "I will certainly never forget this place. Thanks so much for bringing me here."

She smiled back at him, stepped back a bit and looked over his shoulder at the lighthouse down next to the ocean.

Once they caught their breath, they began walking again, and soon the path leveled off. They were then able to relax as they walked, no longer walking uphill but on flat ground. Finally, they reached the top of the cliffs.

As they were walking along the edge, admiring nature, a seag-ull landed nearby. He motioned towards it and said longingly,

"That bird seems to have more freedom than either of us right now."

She looked sternly at him and replied, "That's not my fault.

You're the one who unilaterally took the decision to end our partnership. You say it will be just temporary. But how do I really know? I think it's very selfish of you and I don't like it one little bit."

They walked a bit further and she looked out over the sea to the lighthouse and told him, "Sometimes I feel so let down by people that I'd like to become a lighthouse keeper. The problems in life are other people and their agendas. Out on that lighthouse, I could escape from all that human factor stuff and become pure."

They walked another couple of hundred yards or so in silence, then stopped as he said, "You don't seem to realize that I truly want what's best for both of us. We each have to re-program our lives over the next few months. To do this effectively, we both require as much freedom of action as we can get in order to take decisions that we'll have to live with for many years—perhaps the rest of our lives. Don't you understand that?"

"That sounds nice on the surface. But in fact it's very self-serving. You want what's best for you, and right now I'm just an extra weight you have to carry. Now you want to get rid of the weight and fly like that bird."

She stared at him for several seconds, her face frozen in a manic look. Trying to break the tension, he bent down to retie his shoelace.

He's an unfaithful friend. Like my former husband. I don't want any more unfaithful men. I can find some other advisor to help me get a job.

The world must be rid of unfaithful men.

She surveyed the wide-open scenery. There was not another soul in sight. As he stood back up, she spread out her arms, and with an enigmatic smile on her face moved toward him as if to give him a big hug. He spread his arms to welcome her, as well.

When she got close enough to touch him, she moved her arms back and gave him a big push in the chest, sending him over the edge of the cliff! He was so astonished that he didn't even scream out as he fell onto the rocks nearly 300 feet below.

Smiling slightly, she then stepped back and nodded her head in confirmation of her actions. Turning away from the sea, she began to make her way back toward the train station for the return to London.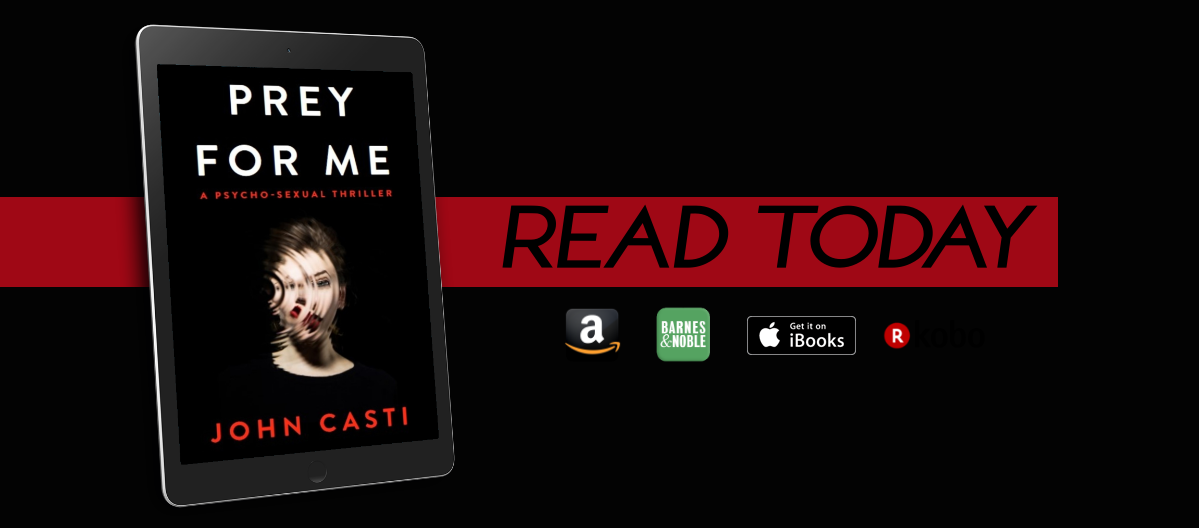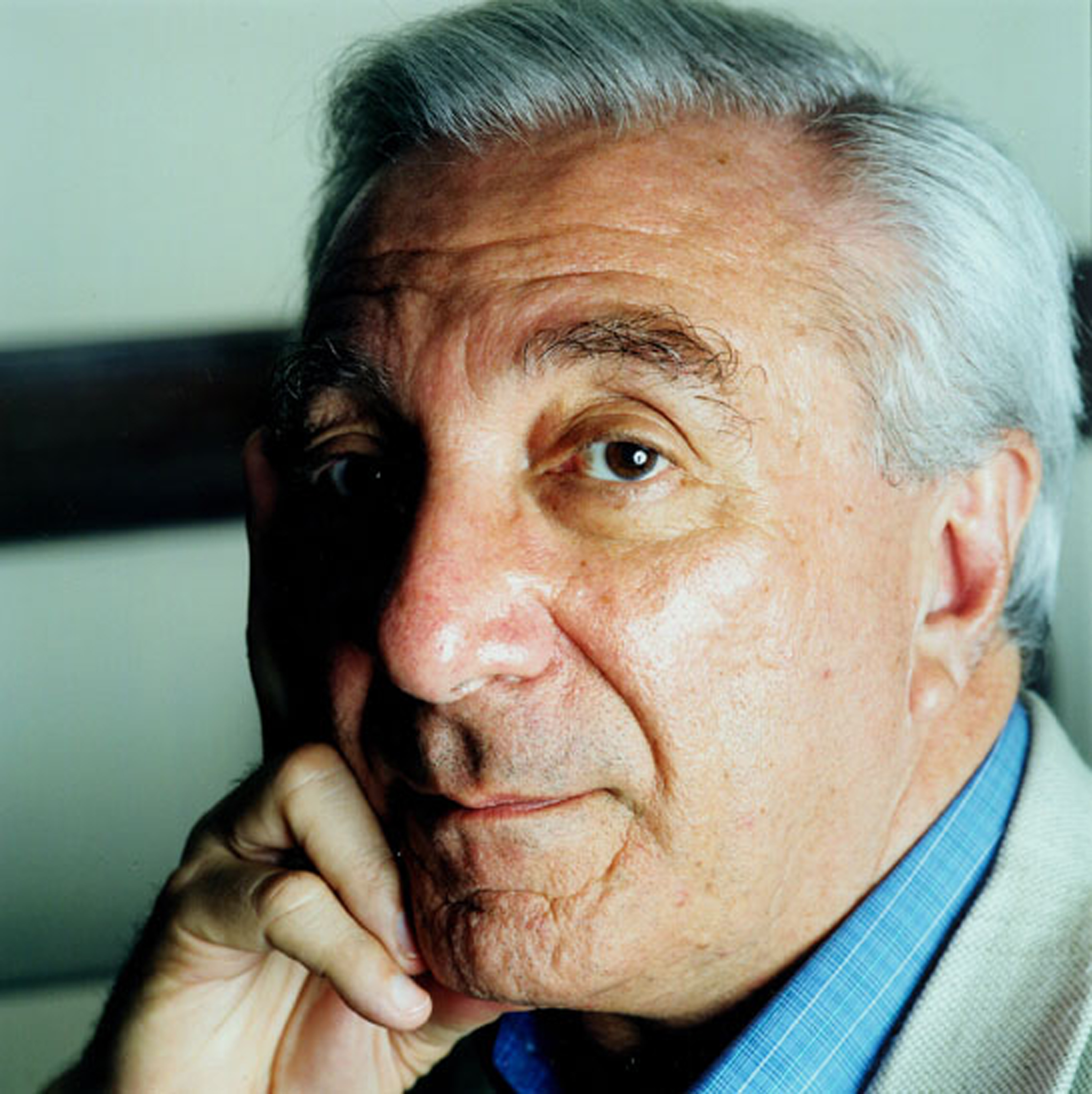 John Casti is an author, mathematician, and entrepreneur. John has written more than 120 scientific articles and seven technical monographs and textbooks on mathematical modeling. Prey for Me is his first novel.

Isaac Asimov said of Casti, "A Deep and careful pleasant consideration of what science is and how it is done. It would make anyone want to be a scientist."

Nassim Nicholas Taleb calls him "a real scientific intellectual."
Contact Links
Purchase Links